Venice Water Bus Vaporetto - Line 16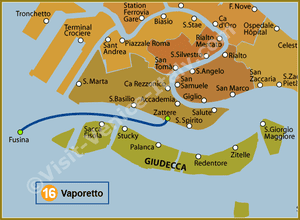 Line 16 Water Bus Venice

Vaporetto Water Bus Line 16 goes from Zattere to Fusina.


Timetables and Stations Line 16 Water Bus Vaporetto
(Timetables valid until March 31st 2019)
Be careful, the Vaporetto Water Bus tickets are not valid on this line. You have to buy Specific Tickets to travel on this line.
Fusina → Venice (Zattere)
8:00→11:00 (Daily)
| | | | | |
| --- | --- | --- | --- | --- |
| Fusina | 8:00 | 9:00 | 10:00 | 11:00 |
| Zattere | 8:25 | 9:25 | 10:25 | 11:25 |
Fusina → Venice (Zattere)
12:00→15:00 (Daily)
| | | | | |
| --- | --- | --- | --- | --- |
| Fusina | 12:00 | 13:00 | 14:00 | 15:00 |
| Zattere | 12:25 | 13:25 | 14:25 | 15:25 |
Back to Top of Page
Fusina → Venice (Zattere)
16:00→18:00 (Daily)
| | | | |
| --- | --- | --- | --- |
| Fusina | 16:00 | 17:00 | 18:00 |
| Zattere | 16:25 | 17:25 | 18:25 |
Back to Top of Page
Venice (Zattere) → Fusina
8:30→11:30 (Daily)
| | | | | |
| --- | --- | --- | --- | --- |
| Zattere | 8:30 | 9:30 | 10:30 | 11:30 |
| Fusina | 8:55 | 9:55 | 10:55 | 11:55 |
Venice (Zattere) → Fusina
12:30→15:30 (Daily)
| | | | | |
| --- | --- | --- | --- | --- |
| Zattere | 12:30 | 13:30 | 14:30 | 15:30 |
| Fusina | 12:55 | 13:55 | 14:55 | 15:55 |
Back to Top of Page
Venice (Zattere) → Fusina
16:30→18:30 (Daily)
| | | | |
| --- | --- | --- | --- |
| Zattere | 16:30 | 17:30 | 18:30 |
| Fusina | 16:55 | 17:55 | 18:55 |
Back to Top of Page
Back to Top of Page