Discover Venice in Italy Treasures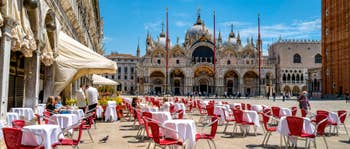 All Things to do and See in Venice
Tickets and Tours

 info 
Your Venice's Treasures Guide
Weather | Bus Airport | Water Bus | Water Taxi | Eating | Doge's Palace | Saint Mark Basilica | Guided Tour Skip the line Tickets | Music | Museums | Guggenheim | Gondolas | Stay | Carnival | Shopping | Vidéos


Covid Museums Booking Rules

You need to book your ticket in advance as most tickets offices are closed.
Beware that even if the ticket office is open, doing the queue will not get you the right to enter the museum the same day or even the following day as only a limited number of visitors are allowed per day.
Skip-the-Line Tickets, City Pass and Museum Pass are valid as a booking for all the museums included.



Paid Access Tax in Venice

Paid Access Tax in Venice for Tourists

 info 



Far from crowds insistent on visiting the places rehashed in all guidebooks, discover with us more secret, more true, more living, exciting and passionate Venice.


Magic and romance
A few hundred meters removed from the throngs of tourists hides the treasures of beauty, havens of peace, secret gardens, incredibly romantic places, the keepers of legends, history and love because Venice is synonymous with the word Love.


Places to Visit, to Eat, to Sleep...
If you are enthralled by painting, literature, architecture, history, music, fine dining, religion or nearly any other passion, our pages will help you find all that Venice offers.

Remember our useful advice to find the best hotels, tables of restaurants and cafes.

All these small, yet important practical details will insure that your stay is the most successful, so that you have only one desire at the end of your visit: to return to savor the joy and magic of "the Serenissima".


Back to Top of Page