Music in Venice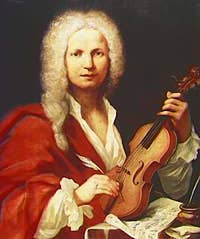 Antonio Vivaldi

In Venice music is bright, ubiquitous. Venice is full of sounds; Venice is a song, an uninterrupted musical refrain, regulated by the chiming of the bells.

The singing of the gondoliers reverberates from house to river and is accompanied by the laughter of the children.

The notes of the "children" of Venice, the masters, Vivaldi, Monteverdi and other renowned musicians and librettists whom Venice gave us, still resounds in and all around Venice, in The Scuole as well as in our souls.

Let us not forget either Lorenzo Da Ponte also a son of Venice and who wrote pages of opera for Salieri and Mozart, including the famous Don Juan!


Venice is the Father of Music.
All Venetians like music; like to listen to it, like to sing it.

It resonates everywhere. In Venice, they like life, they like beauty, they like holidays and music. If the music can have the seriousness of that of Monteverdi, it can also be a celebration when one listens to a concerto of Vivaldi.

All Venetian history is linked to this love of art and particularly music. Join us in this world of singing and sounds, discover life, and the work of those who made of Venice one of the capitals of European music, otherwise "the" capital until XVIIIth century.


Back to Top of Page