Transport

Water Bus | Water Taxi | Alilaguna Airport | Airport Bus | Plane | Train | Bus-Tram | Car


Car

Venice by Car | Parkings - Rent a Car |
Rent a Car in Venice Italy
Renting a car in Venice, at first glance seems strange, since the circulation is forbidden there.

But if you came by air or by train and you would like to visit the back country, the Venezia, Verona, Vicenze and its palaces or else Padova (Padua), which is within 50 kilometers from Venice, in that case a car rental would be a good idea.

Auto Europe is a car rental website that allows you to rent directly (with discounts and/or promotions) from all major car rental brands: Alamo, Avis, Budget, Dollar, Europcar, Hertz, Sixt, or National.

For example, compared to Europcar, you will earn an average of 10% to 15% on the price offered on the Europcar website via Autoeurope to rent the same car, not negligible!

You can also rent with franchise buyback included, but a franchise of 2 to 3,000 euros is usual in Italy.

Auto Europe Car Rental

 info 




Parking in Venice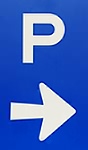 Prices vary greatly from 24 Euros a week to... 140 Euros!

The money which you will save by coming via car can quickly disappear if you are not aware of the problem of the parking.


Venice and Treviso Airport Parkings
One does not always think of it but you often can self-park under good conditions in certain airports and Venice is no exception.

Venice Airport Marco Polo Parking

 info 


Treviso Airport Parking

 info 



As it is very easy to go then to Venice since the airport (to see our page "Arrive by air at Venice Italy"), first and foremost we recommend this parking, especially if you plan to remain in Venice one week because in that case, at 24 euro, , is really inexpensive compared with other parking possibilities which are listed here: The Internet site of the Parking Marco Polo


Parking Auto Venice Piazzale Roma
Garage San Marco

ASM Venezia Piazzale Roma Garage
Phone: +39 041 272 7301

Garage San Marco
Phone: +39 041 523 22 13

Parking Sant'Andrea
Phone: +39 041 272 73 04


Park on the island of Tronchetto
You can also park, undoubtedly with a better chance to find a space, on the island of Tronchetto.


To park in Mestre
Certainly the least expensive solution but obviously less practical.

Garage Europa in Mestre
Phone: +39 041 959 202



Car

Venice by Car | Parkings - Rent a Car |


Transport

Water Bus | Water Taxi | Alilaguna Airport | Airport Bus | Plane | Train | Bus-Tram | Car


Back to Top of Page