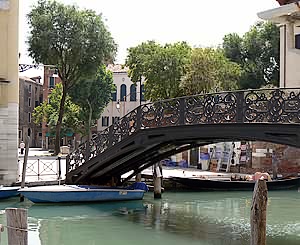 Ghetto of Venice: Campo and Decks Gheto Nuovo
16th century jewish Ghetto in Venice
The Serenissima allocated a well defined zone of houses for every foreign community.
The Giudecca Island
In 12th century, they allocated to the Jewish community (the most important, after Greeks) the island of Spinalunga, which took the name of Giudecca when the Jews became established there.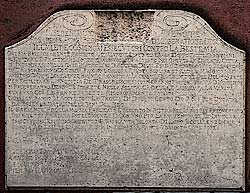 Law text of the Ghetto of Venice [+]
In 1527, a decree ordered the Jews to move to the zone of Cannaregio, where the ancient foundries for cannons were.
The First Ghetto
Word ghetto comes from the Italian geto word (fusion). Throaty pronunciation of geto in ghetto would explain by the accent of Ashkenazi Jews native to Germany and to central Europe.
Ghetto could also be a synthesizing geto pun with Talmudic ghet term (separation) "district" fusion was definitely that of separation, since all Jews must be accommodated in the ghetto. Every evening they closed the doors of the ghetto. No Jew could circulate in the city.
"Geto" of Knowledge
There, all Jews of the Diaspora gathered: Sephardim refugees of Spain and Portugal, Ashkenazim from Germany and central Europe, Levantine taking refuge from Constantinople...
They spoke various languages and dialects,

Bimàh Levantina
They compared various stories and secret accounts of their heritage. There were Talmudists, but also Cabbalists, Gnostics, and Alchemists. All that stimulated deliberation and debate.
A Distinctive Sign
The Jews of the ghetto had to distinguish themselves by carrying a round (small wheel) yellow on the chest, then by a beret or a yellow hat. (In The Middle Ages, yellow was the abominable color of madness and crime.) The one who did not carry the yellow hat had to pay a penalty of 50 ducas and spend a month in prison.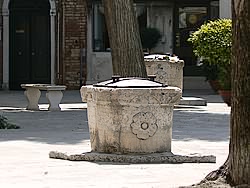 Wells of the Campo Ghetto Nuovo
Additionally, the Venetians were afraid that the Jews could poison their wells and Sérénissime had announced that they did not have the right to use the public wells of the city.
They could therefore use only the wells located inside the Ghetto to get their water. This ban lasted until 1703.
The actual wells undoubtedly do not date from the era of the creation of the Ghetto because sculptures and arms which are of more recent origin, there what makes think that the wells of origin must have been moved and were replaced with these.
Next Page