Coming to Venice Italy by Air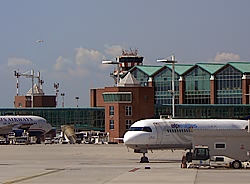 The Marco Polo Airport of Venice
The airport of Venice "Marco Polo" is on Terra Firma or as the Venetians say: on the firm earth.
The distance from Marco Polo airport to Venice train station: It is precisely 12 kilometers from Venice by the road and 10 kilometers by boat across the lagoon
Marco Polo Venice is 25 kilometers from Radicchio/Treviso, 35 kilometers from Padua, 45 kilometers from Jesolo and 65 kilometers from Vicenza.
It is important to know these distances in kilometers because some airlines do not serve Venice Marco Polo, which can moreover be useful in practical terms.
For example the Ryanair Company serves only Radicchio but it is only in 25 kilometers of the Marco Polo Venice airport.
Companies and Fares Prices
The Companies which offer direct flights from Paris are Air France and Myair.com
But you have many other companies offering flights to Venice from other European countries:
Ryanair have flights to Radicchio/Treviso from:
- Beauvais in France,
- Bremen and Frankfurt in Germany,
- Shannon and Dublin in Ireland,
- Liverpool and London in England,
- Brussels in Belgium
- Girona/Barcelona in Spain
They land at Radicchio/Treviso airport, 25 kilometers from Marco Polo Venice Airport, so add an expense return ticket in coach Treviso-Marco Polo for about 10 Euros.

From London, Easyjet have direct flights to Venice Marco Polo Airport from Gatwick, East Midlands and Bristol.
British Airways has a direct flight from London to Venice Marco Polo Airport.
From Spain, you can come to Venice with Iberia.
Apart it, from Europ, plan for a round trip ticket to cost between 80 Euros and 250 Euros per person in economy class. About 80 Euros for Ryanair and Easyjet, and roughly 120 - 130 Euros for Myair.

Air France has promotions from Paris of about 165 Euros round trip ticket if you reserve your trip more than a month in advance and stay up to a maximum of 14 days

Big difference between these companies and it is often a trap to passengers, resides in the weight allowances for baggage.

For instance, on Myair, you will only be able to have 4.5 kilograms carry-on and two suitcase maximum checked luggage with a complete weight of 15 kilograms per passenger. The overcharges for each additional bag: 20 Euros and 10 Euros for each additional kilogram. In brief, if you make some purchases in Venice, the add-on is sometimes rather padded and the low price airfare quickly transforms into a rather expensive trip!
Sites and Useful Addresses
The Website (in English) of the Airport Marco PoloWhit the complete list of all the companies flying to Venice Italy from all over the world.


Airport Marco Polo - 30030, Tessera

Phone: +39 041 260 92 60

Fax: 0412606260

Lost Baggage

Phone: +39 041 260 92 22

Information on Arrivals

Phone: +39 041 609 240

Information on Departures

Phone: +39 041 260 92 50

The Website of Myair.com

The Website of Ryanair

The Website of Air France
To get to Venice from the Airport
There are several possible solutions:
The Bus
Less romantic but quick, the bus will drop you at Piazzale Roma, the bus station located in the northern part of the city of Venice. Two solutions for bus travel are at your disposal: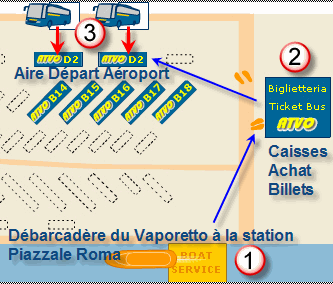 Diagram of Buses ATVO by leaving Venice
Bus ACTV, take line number 5 (it is also the less expensive solution, 1 Euro plus 1 Euro charge per bag. (However, if you have a Venice Card, it is free). The trip lasts a little less than half an hour and it departs on average every half hour. From the Airport-Venice, the first bus is at 4:08 AM, the last at 1: 10 AM. From Venice - Airport, the first is at 4:40 AM and the last at 12:40 AM. The exact schedules are available on the site ACTV.
Bus ATVO, take Line 35 - D2: the quicker (about 20 minutes) of the two because, unlike the bus ACTV, the driver does not stop between the airport and Piazzale Roma. The ticket costs 3 Euros; baggage included. You can buy your ticket at the baggage collection area of the airport. The bus stop is right at the exit of the airport. Roughly every half an hour, from 5 am until 8:40 pm from Venice - Airport and from 8:20 AM to 12: 10 AM from Airport to Venice. The exact schedules are available on their site: ATVO
Arrival by the Lagoon


Boats Alilaguna Venice Italy
Otherwise, if you prefer to arrive by the sea, you can take a boat from the company Alilaguna (On average 15 Euros from the airport in Venice but is reduced to only 6 Euros if you stop in Fondamenta Nuove Cannaregio instead of the San Marco Alilaguna water stop) Plus, the trip is distinctly nicer.
The Blue Line Alilaguna takes around 30 minutes to arrive at Fondamenta Nuove and one hour for San Marco. Red line takes a little more than one hour to the Armory, then another five minutes to San Marco and finally arrives at Zattere in Dorsoduro another 10 minutes later. Frequency is only of a boat every hour; consult the Internet site Alilaguna for the exact schedules.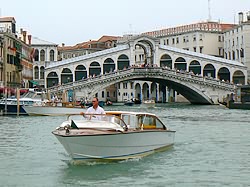 Motoscafo in front of the Bridge of Rialto
Road Taxi or Motoscafo
You can also go to Venice by road, by way of the taxi (a 15 minute trip for 30 Euros).
POn the contrary, distinctly better but rather extravagant, you can arrive in 30 minutes at Venice via the motoscafo, or the boat taxi.
It is necessary you to foresee an expense of around 100 Euros to rent a Motoscafo to Venice. Make sure you also ask for "total" price before taking the Motoscafo, certain boat taxi display tempting rates of only "per passenger".