Book your Hotel in Santa Croce District in Venice Italy
Here are therefore our best addresses of hotels in the sestiere of San Croce (stars give you an order of idea of comfort).


Hotel Al Ponte Mocenigo Venice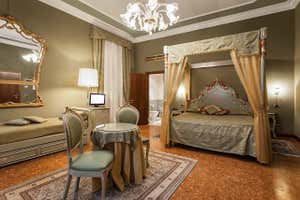 Hotel Al Ponte Mocenigo Venice

With merely 10 rooms, the Hotel Al Ponte Mocenigo Venice has the opportunity to be very close to its customers and an irreproachable quality: The Al Ponte Mocenigo hotel is of this fact one of the best ratios of quality/price to reserve a hotel in Venice.

Additionally, this small hotel has a fantastic location on the map of Venice since it thinks he is located east of Santa Croce and therefore rather close to the center of Venice, opposite of the Ca' d'Oro on the other side of the Grand Canal.

This small delightful hotel is moreover located in a very pleasant district, on Rio de San Stae bank, and its rooms are magnificently furnished in the Venetian style with very good taste. Quite a luxury for a hotel of two stars! A very good choice in Venice for this category of hotel.

Hotel Al Ponte Mocenigo Venice - Rates and Availability


Olimpia Best Western in Venice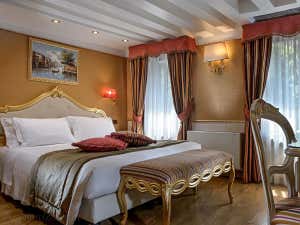 Olimpia Best Western in Venice

The Hotel Olimpia Venice, a BW Signature Collection, is situated very near of the Frari's Basilica.

Not far from the center of Venice but also from the train and maritim station.

Set in a 16th-century building, it the luxury of offering you a private garden and of course free high-speed WiFi.

Prices are in accord with the level of quality for the accommodations.

Ca' San Giorgio in Venice - Rates and Availability


Antiche Figure Hotel Venice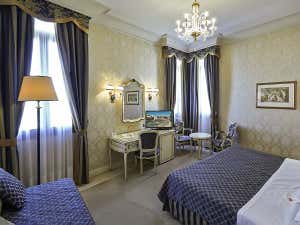 Antiche Figure Hotel Venice

Admittedly, the Antiche Figure Hotel in Venice has an outlying location but keep in mind that it is also very close to the railway station and the arrival of buses from the airport.

Moreover, it is also located on one of the nicest quays along the Big Channel, just beside the church San Simeon Picolo (it is the white building which you can see in the photograph just after the porch with columns of the church).

It also means that from there, it is very easy to take the vaporetto to go to other districts of Venice. Besides, all the small calli behind the hotel, barely 10 minutes on foot from the Frari Church, are frankly very romantic, not to mention that you will not be very far from our preferred ice-cream man in Venice, Gelateria Alaska!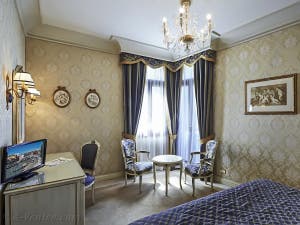 Antiche Figure Hotel Venice

Now that we agree on all this, what about the rooms?

The rooms of the Antiche Figure Hotel in Venice are equal to the general quality of the hotel with staff to attend to your every need.

The hotel has twelve rooms and, a small important detail for some, all rooms are equipped with an Internet connection.

In short, do not hesitate, it is one of the best choices of hotels in Venice in its category.

Antiche Figure Hotel Venice - Rates and Availability


Back to Top of Page