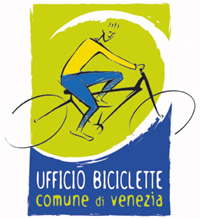 Bicycling in Venice!
Come by bike to Venice
So that it is perfectly clear, things that are forbidden in Venice:
Roller skates,

Skateboards,

Scooters,

and Bikes!
Then why this heading? Simply because in the lagoon, on the islands of Lido, Sant' Erasmo or Pellestrina, where it is permitted, there are superb trails to be seen by bike.
One can also ride a bicycle on Terra Ferma, in Mestre and for Marghera but there, it is really necessary to want to so much since it is even more unpleasant than in Venice... to avoid!
Therefore every cycling-tourist can easily arrive in Venice by bike and enjoy his stay on the neighboring islands on two wheels. They can also be rented on the islands, to ask in Italian to rent a bike, say: Noleggio bici.
An address to rent Bikes in Lido:
Giorgio Barbieri
via Zara, 5, Lido
Phone: +39 041 526 14 90
The Official Site of the Town of Venice for the promotion of the Bicycle
(in Italian only)