Our Itineraries to Visit Venice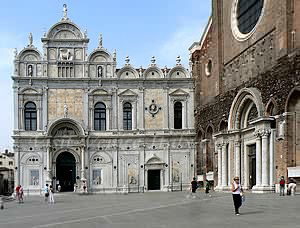 With the network of its complicated calli and bridges, one can easily get lost, but will always gain a certain delight which emerges with this type of serendipitous discovery.
It is impossible to spend even a single hour without encountering something new, romantic, or beautiful. Even if you have already crossed a calle several times, you perhaps did not notice a small sculpture in the upper angle of the home, an amusing chimney, or a reflection of the bridge in the shimmering water of the rio...
We shall acquaint you with these routes in future pages, (and as we place them online we will inform you via our
newsletter
) ) as our favorite places in Venice and in its lagoon, the small secret, romantic, artistic corners of Venice reserved for those who decline tourism for the masses.
You will win twice over because the nicest places are not always the most visited. For that reason, you will often find additional peace and charm of calli still preserved from hordes of foreigners.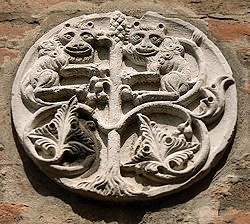 Sculpture Calle drio al Magazen Venice
Here we shall introduce to you, routes which will allow you to visit Venice by putting you in our own steps, musical, religious, loving or other esoteric paths for the enthusiast of stones engraved with the most ancient symbols.
It is this Venice hidden from the eyes of the throngs of tourists who disembark in Rialto and then pile up at Place Saint Mark that we shall help you discover, that we have the pleasure of inviting you to share with us.
We ask your indulgence as we create our own maps of routes that also that we account for the capabilities of each person's feet and legs, as not all are equal or the same age.
We shall also introduce here of routes devoted to those who are handicapped and for whom Venice can easily be transformed into one insurmountable headache with its 400 bridges not designed to be climbed up in wheelchair. Be patient, you will be able to visit Venice as everybody tomorrow, we work on it!